We are very proud that the German AllesBeste, which conducts recognized product tests, chose the IDC® Powerharness as the best in the test of dog harnesses. Among the many beneficial features of the harness, the durable construction, easy fit, the grip, the harness patches and an extremely large selection were also highlighted.
The staff of the German AllesBeste carry out a lot of product tests, from electronic goods and kitchen appliances to products related to pets. When testing dog harnesses, 7 harnesses were tested, of which our company's product was chosen as the winner.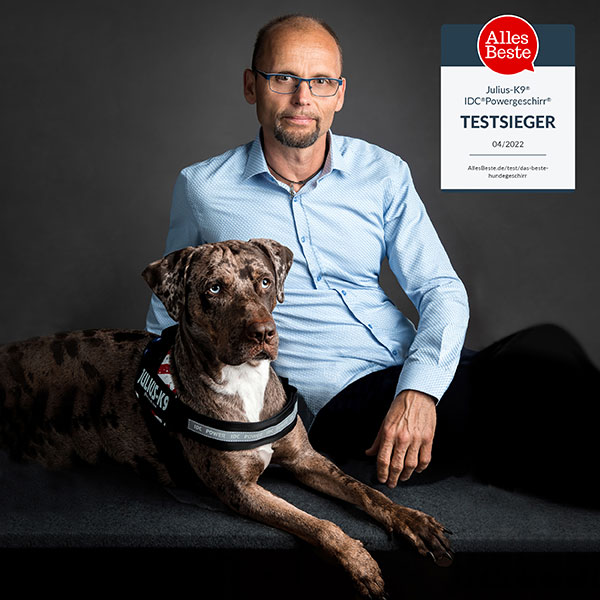 In the detailed characterization of the IDC® Powerharness, the huge range of colours and sizes, as well as the interchangeable patches, were highlighted as positives. "Sturdy and high quality", they write about the harness, the predecessor of which has been worn by the tester's Bernese Mountain Dog for nearly 10 years. "The harness looks almost the same as it did on the day we got it," the article reads.
The author considers the Julius-K9® harness to be a "long-term investment". He praises the construction of the harness, the OEKO-TEX® lining, the grip and the shatter-proof buckle. In the test, the safety lock version of the IDC® Powerharness was subjected to examination, and he also writes in detail about the advantages of this accessory. After trying it out every day, he considers the easy -application and removal as well as the stable grip to be a big positive.
"Julius-K9®'s IDC® Powerharness is our favorite. Excellent comfort, quality materials and workmanship. Putting it on and taking it off is child's play, its closure is super stable, and the interior is pleasantly soft," says the AllesBeste article.
AllesBeste's independent and highly professional tests help many customers choose the most suitable products every day. The authors of the articles are all experts in the given field. The results of the product tests are regularly reviewed by the Frankfurter Allgemeine Zeitung.