The last autumn we had the pleasure to try the new entry of Julius-K9's team, the IDC® Longwalk harness. After several months of tests we can finally show you our experience.
This harness was born to sustain the dog's movements protecting his joints during long-time activities. The harness is made-up of a padded inferior and superior part lead by an elastic system called Duo-Flex®. This system permits to follow all the dog's movements when it's unleashed and reduce the traction when it's leashed. The harness has an additional handle for a better control in case of necessity.
Excluding the objective description, what is this translated in? We have used this harness in different contests for checking the adaptability. We used it during city walks, on outdoor trips, for some hill tracks, on mountain hikes and even for some swims at lake.
In all these occasions it turned out as it has been created for, comfortable and efficient. It adapts to the slow movement of the walk but also to the fats ones while running. During mountain hikes it doesn't weigh on the dog's movement, that's permits him to goes through every path easily, keeping stable and balanced.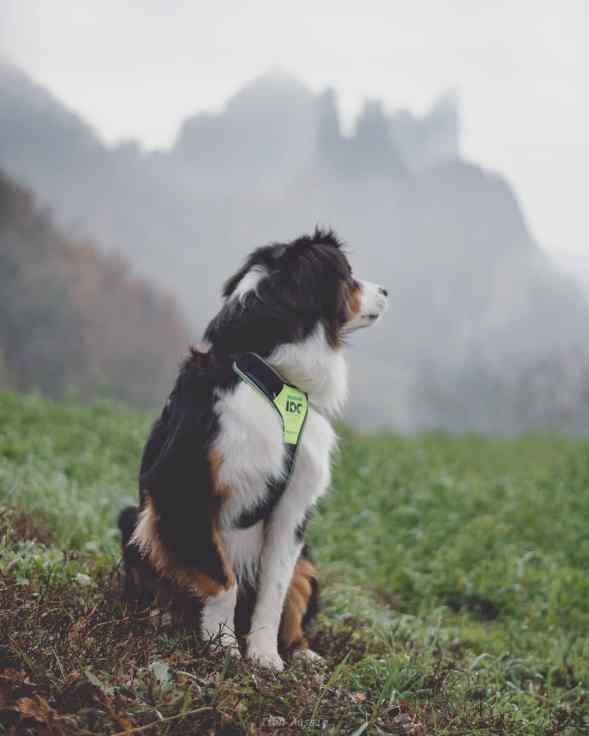 After swimming or playing in the mud it wasn't difficult to clean and even the dry time was shorter than the expected.
The harness has a medium weight and it's easy to adjust thanks to the lateral straps. The ring on the top is big, but it isn't immediate to hook. There are four colors available: Black, Red, Blue and Neon. Every color has a different visibility, we went for the Neon one, which is visible from long distances, even in foggy days. This is the most visible one, in my opinion. Our friend Andrea went for the blue one, which is less visible than the Neon one. However we noticed that the side-bands are highly reflective and this help to protect the dog in low-light condition.
Pros:
Comfortable
Protects the joints
For long outdoor activities
It doesn't weigh so much
Less traction
Easy to clean
Cons:
Not immediate to hook
Visibility limited for some colors
To know before purchasing:
The price is high but fair to the performance. You can use this harness in every contest, but it express its maximum potential during outdoor hikes. For this, if you are not convinced by the price, we invite you to think about how would you use the harness before you buy it.
In conclusion, this is what we noticed in these months, using it in every possible context and weather. This harness came out being a great gear for our adventures, and it will following us in the future ones for sure. We want to thank Julius-K9's team for their generosity and for permitting us to try this innovative product. We hope to have given you the information you was searching for as clear as possible. We are always free for questions, doubts and even curiosities as always.
See you in the next adventure,
Barbara & Itan