In the 25th IRO Rescue Dog World Championship, Bea Belényi and Zen won the title with an incredible performance. Standing on the podium wasn't exactly new to her; this was the second time she got to stand on it since Bea already took the second place two years ago. How did her journey lead her to this? How can you prepare for such a competition, and how exactly did these two spend their days? Read the following interview to find out.
Here they are. As I watch the dog rest his head on his owner's lap, I shortly pause before entering the room. I think about how many lives these two have saved together. So much practice and experience. It becomes clear soon enough that these two understand each other very well. No wonder. How else could they have won a world championship together?
You did an incredible job during the competition, congratulations on your achievement! What are your thoughts after this victory?
The competition started on Tuesday and lasted until Sunday. We have already been in the lead since Saturday night, although we knew that the results could change at any moment. When we saw the outcome on Sunday, I initially had mixed reactions. It was hard to believe it at first, but then I became extremely happy. Zen is the second Hungarian world champion in the rescue dog history, right after his grandpa Kuba. It's safe to say he continued family tradition, and it felt amazing to be a part of it.
Bea and Zen
What was the first thing that came to your mind?
I looked at Zen and told him: this is what we have been working for. Naturally, in a moment such as this, you ask yourself the question: what should our next mission be? A six-year-old dog is still in great condition, so we have to figure out how to go on from here. Don't get me wrong, there's definitely a perspective. In two weeks' time, we are going on a Mission Readiness Test, which is going to be especially challenging for me, although I think Zen will pull it off easily. I'm more worried about myself in this case, as they look at us together and judge according to how we act in lifelike situations. This will be a 48-hour search to find 21 missing people in 7 different areas. This is a very stressful exam, which only a few dogs have ever been able to complete in Hungary.
Did you expect to make it to the top 3?
 The competition is very strong, we knew anything could happen. Success was definitely not guaranteed. Of course, we trained hard, so that we can do our best when we finally get there. Based on our previous experiences, we knew that if Zen does his best, he will make quite an impression. This dog really has everything: his skills and his nose are both amazing. Naturally, we can neither ignore nor control factors such  as luck or weather. Championship participants draw lots to decide which day they compete, which means that circumstances can be quite different. There's no denying that weather can have a major impact on performance. Don't get me wrong, I'm not saying this to take away anything from him, Zen did an outstanding job.
What weather do you consider good or bad?
For example, heavy rain is undoubtedly not beneficial as it washes away the smell. On the other hand, light rain can be very useful. Strong wind also blows away smells while a breeze can still be perfectly fine. Slight cold and light breeze are most ideal whereas heat and still air are clearly enemies. What matters the most however, is how competitors and their dogs tackle these obstacles. This means that you cannot just do all your training in perfect weather, you also need to test yourself in heat, rain and even during the night. We were lucky enough to start this championship in the morning, when it wasn't scorching hot yet. Although wind was far from ideal, every other aspect was fine. Weather definitely matters but other aspects such as training, quality of indication and intensity of search are just as important.
How exactly do you prepare for this?
Firstly, preparation consists of physical conditioning as half-hour searches require stamina. This demands a lot of work, especially because Zen needs to be able to use his nose the whole time, and that also requires a lot of mental and physical strength. Obedience training sessions are short but frequent. Sometimes we just stop in the park, do a quick heeling exercise and then go on. Preparation for search missions was the same for the entire team; we started discovering ruins in nearby countries. These were usually one-day trips, and that is how we got to see Banska Bystrica, Slovenia, Austria, and many other ruins within Hungary. We tried to position our tasks in various ruins and situations.

Tell me about your team.
 I am part of the Pannon SAR Team. The team is over 20 years old, and it has provided some of the most successful dogs in Hungarian history. For example, Kuba, or Karma, who finished second last year. We have made it to the top 3 many times throughout these years on both local and world championships. I have been part of the Pannon SAR Team for six years, ever since I've had Zen with me. I tried out many things before, I participated in several different trainings, but it was our team leader Sarolta Leczki who saw the opportunity in Zen. I feel honoured that she saw the opportunity in me too.
No wonder she did. Assistant, rescue and therapeutic dog trainer, and a key member of ELTE's Department of Ethology researching wolves. How did all of these come in to play?
Well it's true that I have seen my fair share of dogs before getting into rescuing, plus I definitely had great experience with both training and behaviour analysis. My professional career started at the University, when I walked into freshman year and declared that I wanted to research chimpanzees. They told me I can choose between dogs and rabbits. So I opted for dogs, and ended up in a wolf training program. During this project I took part in the upbringing of four wolves and a control dog called Oszika at home. I did not return the latter to the project. I got an offer from the Austrian Wolf Science Center to work as a trainer. During my time there, the wolves learned how to use a touchscreen, walk on a leash, sit and lie down. We could also take guests in, but of course with keeping in mind that these are in fact wild animals. In the meantime, I became the temporary guardian of a help dog. In connection to this, I spent a lot of time in Germany for further education, I learned how to train seizure detector and disabled aiding dogs and started therapy work with my own pet too. When I returned home six years ago, I started spending way more time training assistance dogs, and that is what I have been doing up to this day. At the moment, there are two service dogs and 15 therapeutic dogs under training at the Azúr Assistance Dog Association.
Does Zen know how to do all of these things?
Yes, he's a licensed therapy dog and he works with toddlers or children with multiple disabilities. He has a natural aptitude to detect epileptic seizures. Although he's not a certified seizure alert dog, we have noticed that if we work in a group and he starts licking on somebody's face, that person will likely end up having a seizure within fifteen minutes. He loves doing therapy. When he joins the group after the summer break, he's so glad to see the children that he jumps around with joy. He's a very versatile dog who works a lot, so he does not do therapy every day. I don't want to overwork Zen as I'd like him to be around for a long time.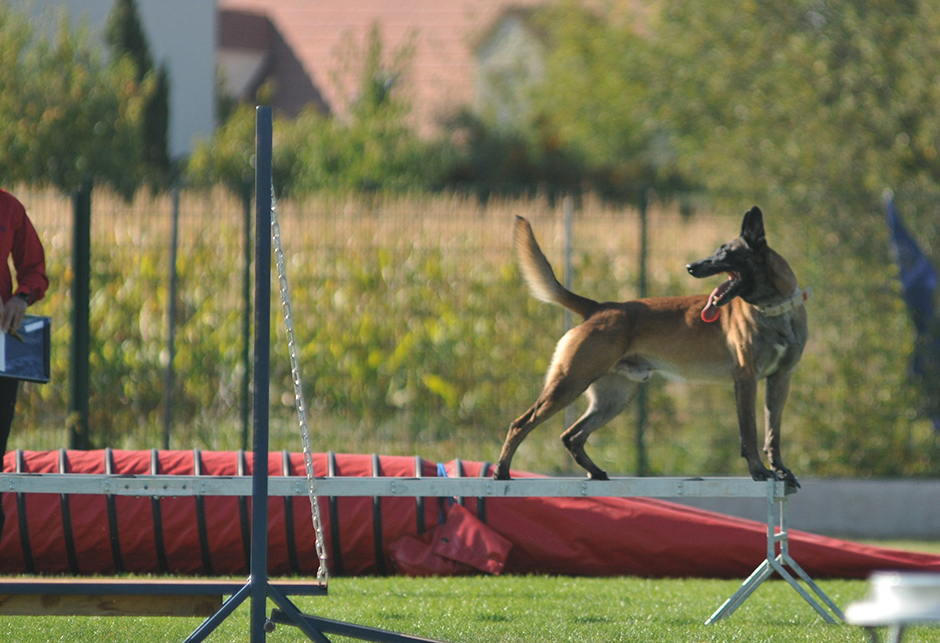 Does Zen have a favourite activity or hobby?
Of course he does. Three things: guarding, flyball and search. It's incredible to watch how much he loves to search. He shakes like a leaf with excitement when he knows I'm about to send him to search for something.
What is your opinion on the rescue dog situation in Hungary?
Our dogs are getting better and better and the results show that the Hungarian team gets more and more attention. This especially applies to the dogs that have been taken for training. That has a visible impact. The sport is becoming increasingly prestigious as owners realise that doing search and rescue as a hobby is very far from the performance of the real professionals. I give my all in rescue training and really put in the work – so it's no longer just a hobby for me. A lot of us are very serious about it so if we get a distress call, we go and help no matter what. These dogs can truly save human lives. In such cases it can't be a question whether they fancy going out in the rain or not. They are trained so that if I tell them to go, they go. It appears that there's a growing difference between sport and real-life missions. Most people only look at it as a sport while the rest take it a little more seriously. Of course, there's a middle group who do both although I don't see the previously mentioned sharp difference in Hungary.
What advice would you give to those who have just started rescue dog training?
I'd tell them to be very persistent otherwise you can't achieve anything. I have also felt like giving up many times before – and not only with Zen. I thought it was pointless and I cannot do it. Then we pulled ourselves together. If you work hard and find the key to your dog – since they are all different – nothing will be impossible. That key won't be handed to you on a silver platter though. You need to work hard to earn it. Both you and your dog do.
Beatrix Ruskó