Dog schools have undergone major changes in the last 20-25 years. In the 1990s, most of the sessions were held strictly on a leash, and the dogs were forced to walk by their owners side by pulling hard on the lash. Today, however, the world has changed a lot, and schools dealing with family dogs place much more emphasis on harmonious coexistence than on precise task execution. During training, motivation-based teaching came to the fore instead of coercion. If the motivation is right, then every dog is happy to learn voluntarily, and there is no need to push their butt down to make them sit on command.
In order to teach your dog well and effectively, you first have to figure out what really motivates them. There are dogs that would do anything for a snack, while others become excited from the sight of a ball. If you're lucky, yours loves both.
Sausages, cheese and roast meat
The most obvious motivational tool is food, which is also why it's used by most dog schools. A good treat is special, doesn't need to be chewed, and is easy to consume. Therefore, dry food is not ideal, you might want to opt for cheese, sausages or other non-dry reward snacks.
It could easily be the case that your dog likes to work for any kind of treat at home but will spit it out on the street or at the training school and won't accept it. This is a completely normal phenomenon, in which case it is worth choosing a stronger, tastier treat, such as roast meat or anything else your pet really likes.
Instead of food, you can also use a toy to reward your dog. It could be a ball you throw away or something you can both grab and play tug with. Just make sure you use something that actually motivates your dog.
If you want your dog to always be happy to learn from you, you should avoid discipline during training. Otherwise, excessive punishment during teaching can lead to the dog not wanting to work with you anymore, and this can only lead to further frustration.
It really matters what kind of mood you're in during teaching. If you're enthusiastic and enjoy teaching, your dog will feel the same way. While if you find it boring, don't expect your dog to be too hyped either. If you feel tired and impatient, it's better not to get started because you'll just do more harm than good.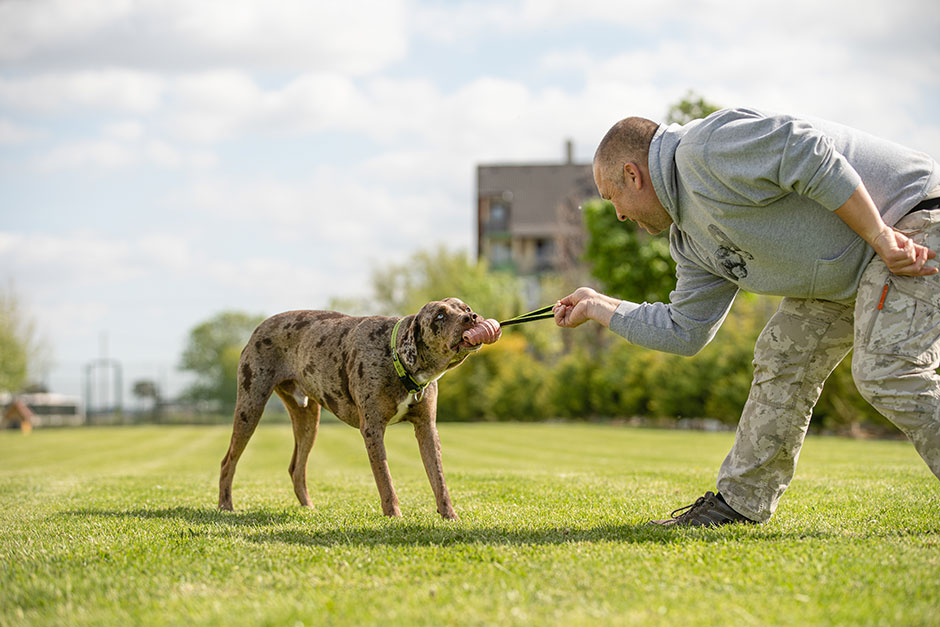 The tool that revolutionized animal training
During teaching, the reward snack is usually used as what's called a primary reinforcement, i.e. when the dog sits down, she immediately receives the reward. But if the dog is very excited and jumps back up straight away, it's a little harder since she starts doing something else even before you can give her the reward. The same is true if she's further away from you and want to reward her for doing something.
Clicker training is an excellent way to eliminate this issue. In this case, signal to the dog with a clicking sound that indicates she did well, for which she will receive a treat. This is called secondary confirmation. Of course, this sound means nothing to the dog at first, but we need to teach her that clicking is always followed by a reward. The easiest way to do this is to feed the dog at first by giving her a treat following each click. If after a few days you see that your pet is already expecting food for the click, you can also start using the clicker during training.
A great advantage of the clicker is that it has a distinctive sound that is always the same wherever you are. With this short clicking sound, you can let the dog know much faster when she did something well, and it doesn't even matter if the treat arrives with a bit of a delay.
Many people are afraid to use a clicker because they think they'll have to walk around with a clicker and a reward snacks for the rest of their lives. But this is not the case. If the dog has learned a task on command, the clicker can be omitted.
In addition, with the clicker, a completely new teaching method opens up, which is called shaping. The bottom line is that instead of being guided with a treat, the dog has to figure out for himself/herself what the task is. It's like a game of hot and cold. If they try in the right direction, you click and reward, otherwise they will get nothing. Since they have to use their minds the whole time, they remember the tasks much more effectively with shaping.
Do as I do
Animals learn very well from their conspecific, whether it is about food or taking care of their offspring. However, dogs are special creatures because they are able to learn not only from other dogs but also from humans through observation. The teaching method based on this is called Do As I Do.
During Do As I Do training sessions, the dog is first taught to imitate its owner on a command word through tricks already known. And then new types of behaviour can follow. The method is basically suitable for mastering more complex tasks. For example, if you want to teach your pet to take an empty bottle from a small table in one half of the room and throw it in the trash, DAID is a very good way to do that. But it is less applicable to teaching a regular obedient task.
Whichever positive method you choose to teach your dog with, the time spent together will definitely pay off. As a result of the session, not only will our four-legged friend pay more attention to us, but the relationship between you will also become stronger.
Orsolya Varga-Molnár