JK9® has more than 150 partners worldwide and all of them are doing a great job representing our company and products. Our South African partner, Pet Bound Co. is a really special one because above that they work closely with Anti-Poaching Units in South Africa. The rangers and dogs have close bonds and put their lives on the line daily to protect our wildlife.
Meet our South African partner
Tyrone Boreham first came across the JK9® harness when he was on his honeymoon in Europe. He instantly bought harnesses for his two rescued dogs and later decided to get in touch with JK9® about distributing them in South Africa. He established Pet Bound Co., which has been distributing K9 products ever since and growing year by year.
"We love the quality of the equipment and the support JK9® offers. Everything from the harnesses, leads and collars to the working dog equipment is of an amazing quality and pays the utmost attention to detail. We love it and our customers love it", says Tyrone.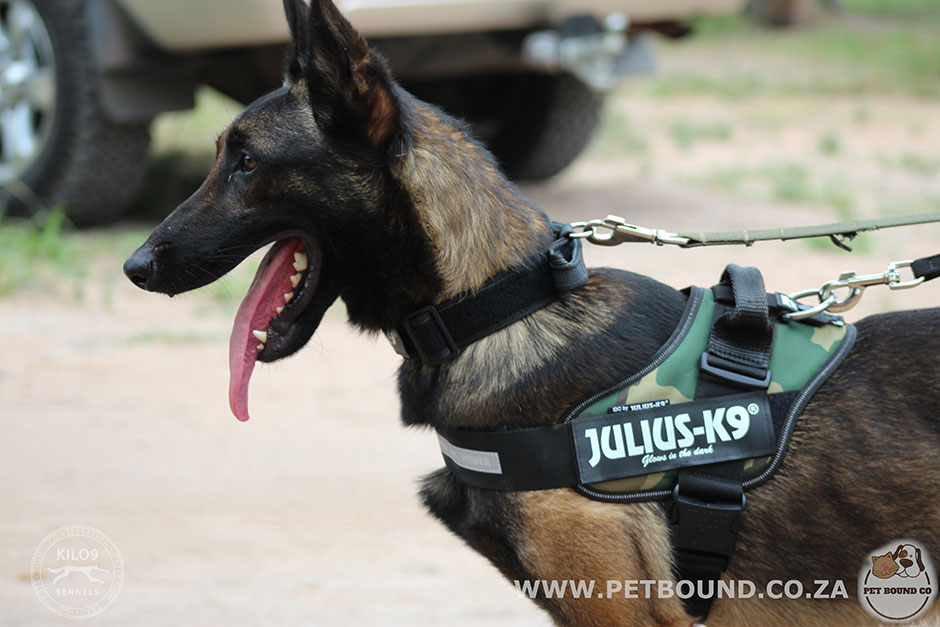 "The relationship between dog and human is truly a bond that cannot be broken. Dogs give us their all, whether it be a working dog or a companion dog. They give us all their love, attention and protection at all times. For us, family is nothing without dogs. Our motto is 'Dogs give us everything, so why not give them the best?' and this is why we choose JK9®."
Tyrone's favourite JK9® product is the IDC® harness. "It is a world class product with tons of research and development that has gone into it. It is truly the world leader in harnesses, however we also love the new Powair harness, and we think it is going to be a great product in the Southern African Market because of the heat we have here during the summer months."
JK9® and wildlife conservation
Dogs play a very important part in saving endangered animals in South Africa. Rangers use them for protection or tracking (both animals and poachers). Pet Bound Co. and JK9® support them with harnesses, leads, toys and collars. Here are some of the units we have sponsored:
Kilo9 is an amazing group of people who have dedicated their lives to the K9's and to wildlife. "We got to spend some time with Chrisjan and some of his team as they took us through what they do while out in the field. The dogs are truly amazing with Bandit being the meanest dog we have ever met. I would not want to be a poacher on the end of his bite", says Tyrone.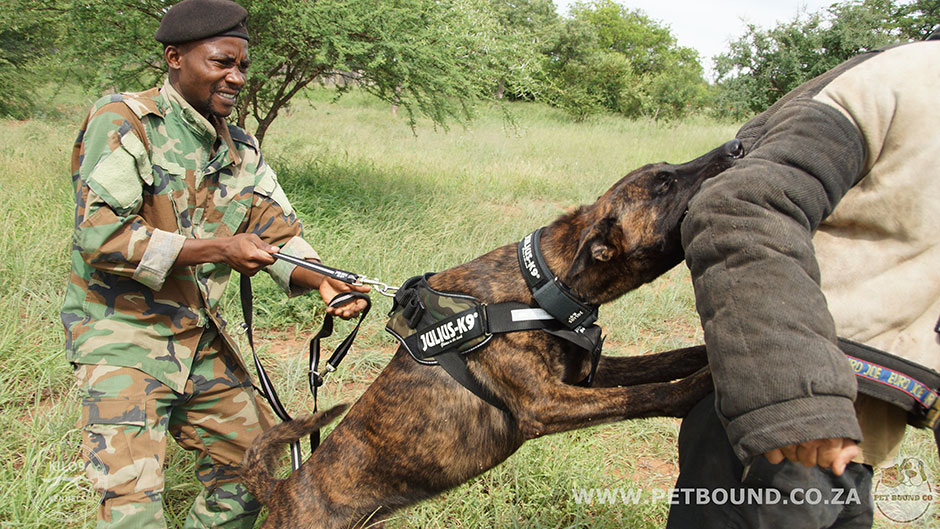 Pit-Track is a K9 conservation unit that specializes in rhino protection, anti-poaching, tracking, K9 training and investigations. They have a 100% success rate and to date not a single rhino has been killed on their watch. Pit-Track offer 24-hour protection of rhinos, following them permanently with highly armed operators with attack & tracking dogs.
The Black Mamba Anti-Poaching Unit is a mostly female ranger unit founded in 2013 with the purpose of protecting wildlife in South Africa, mainly in the regions of the Balule Nature Reserve and the Greater Kruger National Park. They are doing a fantastic job.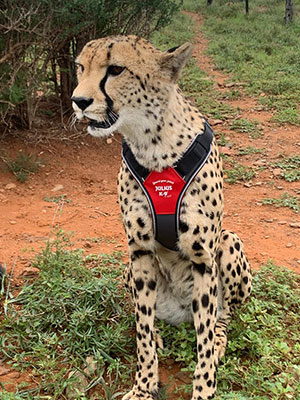 The Danielle Cheetah Project was founded to play a part in protecting cheetahs, the re-establishment of pure gene lines, and to educate the public on the importance of protecting this amazing species. They use the JK9® harnesses and leashes to walk with the cheetahs. Their names are Zintle, Thor and Amari. "We were very lucky to spend some time with the cheetahs and walk them while we fitted their harnesses and collars. They are a truly amazing species and the harnesses will be of a huge help to the team there at Danielle Cheetah project", says Tyrone.
Tracking and Conservation K9 group is a unit that trains tracking dogs. Their dogs are highly driven cold spoor tracking dogs and they can follow the tracks of a poacher that are over 20 hours old to about 40 hours old. The dogs are a cross between a bloodhound and a dobermann because of the bloodhound's olfactory organ for detection and the dobermanns slender body and high drive. They not only breed and train but distribute dogs to selective units across Africa. They have sent out a total of 33 dogs to units across five African countries to date.