When people think about assistance dogs, it is mostly guide dogs or possibly therapy dogs that come to their minds. These specially trained dogs are a huge help to their owners, making their everyday lives significantly easier. This is what we talked about with Nóra Sziklai Bengyel, owner of 3 assistance dogs and a volunteer at the NEO Hungarian Service Dog Association.
How did you come into contact with assistance dogs?
For the last 30 years, dealing with dogs in various clubs and associations has been a constant part of my life. I came into contact with service dogs 7 years ago, when I volunteered for the NEO Hungarian Service Dog Association (http://segitokutya.net/). I was very interested in this world and I wanted to get to know more about it. I've learned so much about the subject lately and we soon became assistance dog owners as my little boy was diagnosed with autism.
I had been working in the association for a long time when Risza, the autism support and therapy dog, came to us. Risza soon became part of our family and provided real help in the development of my young son. Over the years, I have started working with therapy dogs in more and more fields (kindergartens, schools, development homes, nursing homes, etc.) and have delved even deeper into this special sector of dog-related professions. And a few years ago, Gofree, the celiac assistance dog also joined the family.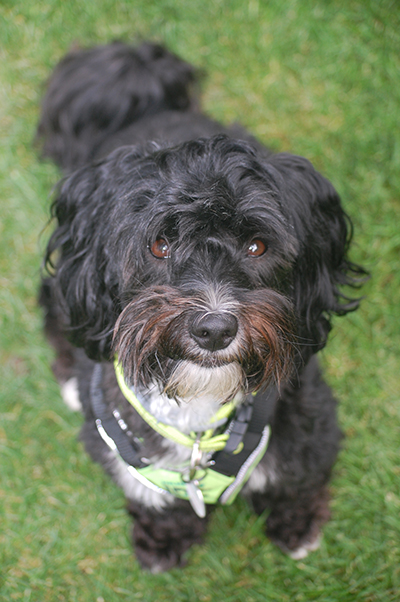 What type of assistance dogs are there in Hungary and abroad?
Guide dogs are most widely known in Hungary, although this is only one type of assistance dog. There are also mobility assistant dogs, hearing dogs, seizure response dogs, personal assistance and therapy dogs in Hungary. Mobility assistant dogs make the lives of their owners who live in a wheelchair much easier by bringing in various items, picking them up from places the owner would have difficulty accessing, or opening doors/turning on lights. Hearing dogs signal to their hearing-impaired owners when they hear a knock on the door, the alarm go off, or a message on their phone. Seizure response dogs are able to sense an impending epileptic seizure or a drop in blood sugar in a diabetic owner with their sense of smell. In this way the owner is able to prepare or take the right medication in time. Personal assistance dogs can be trained for a variety of tasks, including four-legged helpers trained to aid people with autism, or special cross-trained dogs that help their owners with multiple disabilities, such as for a wheelchair and visually impaired owner. With therapy dogs, owners can visit various institutions where the dog is involved in the therapy sessions.
What makes a good assistance dog?
The basic characteristics of a dog are very important. Many people ask which breed is best suited to be a service dog, but what really matters is not the specific breed, but rather what individual traits that particular dog has. It is very important for them to have strong nerves so that they can accompany their owner with confidence in any environment, without being scared or aggressive. It is also important for them to be easily motivated and they need to want to work with their owner. High-quality professional training builds on these traits, and the combination can result in an excellent assistance dog.
How often do they train somebody's own pet to become their assistance dog?
In theory, the training process starts with selecting puppies for the association's programme, through a puppy test. They first go to a foster parent, where basic socialization and obedience training begins. They may spend the entire training period with the foster parent, but it may be that the lead trainer will take over the rest of the training process after a while. Around the age of 1.5, joint work with the final owner begins, during which the owner and the assistance dog learn to work together and perform special tasks. In practice, the training process can be unique in many cases, so it can also happen that we train somebody's own dog, and that the puppy or adult dog is already with the final owner during the training. This, of course, always depends on whether the dog is suitable, and whether the owner can hold up their end during the training.
How much are assistance dogs accepted by society? What sort of rules apply to them?
Fortunately, there is a growing interest in the world of assistance dogs. In Hungary, guide dogs are still what most people think about, but we also train assistance dogs for many other problems, for example diseases that may not be visible. So as an outside observer, you may not even see that the owner has any problems, yet they're accompanied by an assistance dog. This is often problematic because, for example, in the case of a blind owner, or somebody in a wheelchair, a security guard most likely will not question the dog's presence (for example in a place where dogs normally aren't allowed). On the other hand, if the owner appears to be healthy, problems may arise.
It is very important that the assistance dogs always have a distinctive harness with the logo of the training organization, and for the owner to have a special card, the validity of which can be checked through a central system (http://www.matesze.hu/). In Hungary, a legal decree also regulates the conditions for the examination and employment of assistance dogs, and the owner has the right to enter facilities open to everyone with their assistance dog (for example, cinemas, theatres, shops, playgrounds, beaches). Nevertheless, embarrassing situations are still common where an owner going somewhere with a service dog is discriminated against, denied access to certain places, or put in an awkward position. This is why it is very important for everyone to get to know the world of assistance dogs and the important work they have done alongside their owners to get into the public consciousness and increase their social acceptance.
Nóra Sziklai Bengyel is a cooperating partner of Julius-K9®.