Are you thinking about buying a dog harness? This article explains how best to use a harness when walking your dog or travelling in a car, and how to avoid problems or accidents.
Testing of harness materials
Dogs are often seen as family members, and their health and safety is paramount. For this reason, it's essential that manufacturers of dog harnesses use high quality materials that are guaranteed to be safe for human use.
All materials imported into the EU require Reach certification which states that they do not contain any harmful or prohibited ingredients. It is imperative that the straps and linings used on dog harnesses have this certification, to avoid the risk of any potentially damaging components being absorbed into the animal through the skin via contact. As an example, Oeko-tex Standard is an independent testing and certification system for textile products. Oeko-tex certified premium products offer reassurance that all the materials used in the manufacturing of Julius-K9 dog harnesses are completely safe.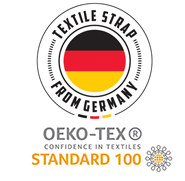 Straps and buckles from some other manufacturers may be sourced from outside the EU and may be made from recycled plastics which could contain harmful substances. These may also be inadequately made, with a poor load bearing capacity. Buyers should be wary of such products, as well as other counterfeit products: they often have fake certificates which be deceptive.
Products manufactured in Europe should have all the necessary certificates to guarantee the calibre of the materials used to make the buckles and fasteners. High quality material is critically important for buckles, to ensure adequate load bearing capacity.
Ongoing maintenance of harnesses in daily use
If a harness is used for active exercise for several hours a day, it's important to check for signs of rubbing on the dog's body. This can be seen on the dog's belly, neck region or armpits: anywhere that the harness comes into contact with the dog.
If there is visible evidence of rubbing, the harness should be checked to ensure that it is adjusted correctly, as per the manufacturer's instructions.
To reduce the risk of any issues like this, the harness should be taken off after the daily walk.
With short haired dogs, porous, mesh-lined materials tend to tug on the dog's hairs, so a smooth cotton fabric may be more suitable. Cotton fabric is also easier to clean.
Removable chest pads that get muddy should be washed more often than the rest of the harness.
Machine washing and drying of any of the harness components is not recommended as it can affect the condition of the harness.
Load tests on dog harnesses
Informed consumers are increasingly looking to purchase dog harnesses that have been subjected to load tests. All elements of the harness, including the stitching and the fasteners, should ideally be able to support three times the weight of the dog. All Julius-K9 products are tested to confirm that this is the case.
Securing a dog in a car with a harness
It is dangerous to have a dog loose in the car: they can obstruct the driver's vision, interfere physically with driving, or even escape into traffic through an open door or window, causing danger to themselves as well as to others.
A well-designed dog harness can be an effective way of restraining a dog safely in a car. These harnesses can be secured by the seat belt itself, or by using safety buckles that have already been fitted in the car (e.g. to accommodate child safety seats). However, experts stress that even with the proper equipment, and with correct adjustments as required by current legislation, a harness alone is unlikely to be a life-saving piece of equipment in the event of accidents involving a frontal collision. The laws of physics prove that a car travelling at a speed of 50km/hr with a dog on board that weighs 10kg will result in a load force on the securing straps that's  ten times that of the weight of the dog. Even the best, strongest harnesses are unlikely to withstand this type of stress. As an example, the Julius-K9 harnesses can support three times the weight of a dog, which is ideal for normal daily use, but insufficient if used as dog restraint in a collision.
For maximal security for your dog in the event of a collision, you should consider a securely  fixed travelling box.