Just as people need different isotonic drinks before, during and after sporting activities, dogs have a need to consume fluids of a similar nature when they exercise vigorously. Whether you are preparing for a Hard Dog Race, you regularly jog with your dog, or you take part in a dog sport, always think about giving your dog a boost. A dog's energy reserves flag every now and then, and in the absence of available carbohydrates that can be mobilized after a longer period of exercise its body starts to break down muscle protein. In spite of getting sufficient exercise, this leads to deterioration in the dog's condition and to a change and atrophy in its muscles.
Before and after sporting activities, think of giving your dog the right boost and ionisation. A day or even a few hours before strenuous activity, you can top up your dog's energy reserves without filling its stomach. This can be done by giving special, pre-sport drinks made for dogs which contain macroelements as well as easily mobilized carbohydrates. These help both muscle function and sensory transmission, and support the metabolism of cells, contributing to maintaining the dog's energy level and preventing tiredness.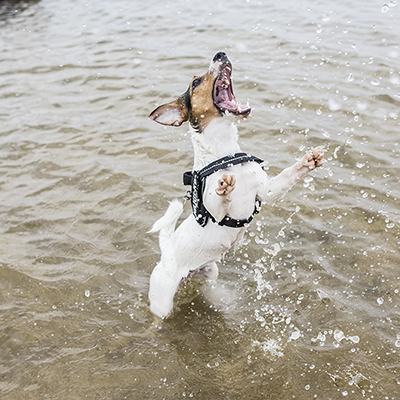 Most dogs cannot be made to drink enough before exercise because, being dogs, they are unable to perceive the importance of this although hydration is absolutely essential for them, too. For this reason, I believe a good taste is the biggest advantage of drink powders. Dogs readily drink these even if they are not thirsty. So I can give my dog a drink half an hour before doing sport and can be sure that he has drunk the right amount of liquid. Only if exercise is prolonged over several hours or during an unusual form of movement or a heatwave is giving a dog an isotonic drink while moving recommended, otherwise the dog knows when it needs water. Of course, then it must have the opportunity to drink.
Most important of all is re-energizing and re-vitalizing after sport. Post-exercise rehydration drinks have far more components than the drinks described above. They contain vitamins, amino acids, minerals, micro- and macroelements and carbohydrates, which help the dog recover quickly after the activity. The body produces protein from the amino acids, which contributes to maintaining and developing musculature (this can also be achieved through proper feeding). The minerals and micro- and macroelements help the body maintain the constancy of the water/ion concentration, support mitochondrial functions (thus cellular metabolism) and promote the regeneration of the muscles. The carbohydrates replenish the most important reserves, the liver and then the muscles, while the vitamins aid the proper functioning of the immune system.
Greater emphasis should be laid on keeping energy reserves topped up in older dogs because their bodies are weaker and in need of greater help. However, it does no harm for young active dogs that are full of energy to be given a boost provided it is done with due care. Even if the benefit is not obvious immediately, your dog's body will certainly be grateful for your care later.
BZS