Interview with Gyula Sebő, head of the Julius-K9 group (2018)
– I have come across your products in many countries around the world, and I know that you have won American, Hungarian and Chinese awards. What's your primary business goal at the moment?
– My goal has always been to manage a safe and continuously growing business, with ever-expanding, long-term, business and professional connections. And of course to accomplish this through 100% team work. I may be the leader of the company, but the key to our success is the hard-working team behind the scenes.
– How are you involved in this team work and who does the team consist of?
– For me, a key part of the business is the direct relationship that I enjoy with all of my colleagues, both in the areas of production and of trade. We have a team of skilled and experienced employees who know each other so well that they can sometimes even finish each other's sentences. A typical multinational company might see a work force as a source of statistics, with data like employee turnover rates to review their success in staff retention. My own view is different: I see a group of valuable individuals who deserve our full attention. We devote considerable energy to keeping everyone happy, and even then, we strive to do more for them. If any individual has extraordinary personal competencies, or has any qualities that are deemed particularly useful for our team, I will personally "fight" for their cause, even if I have to disregard the corporate hierarchy.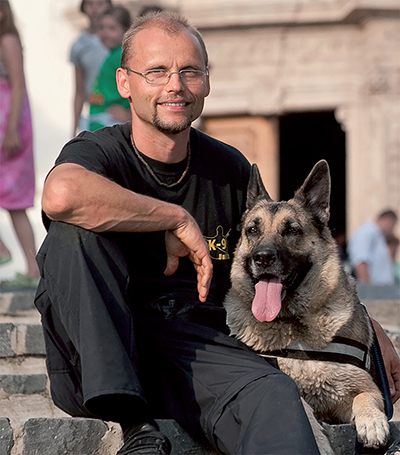 I have been building teams and managing talented staff members both at home and abroad for over 20 years. My goal is to fill key positions with people I know well. Then through these individuals, I can feel reassured to know that I am well placed on the starting line, ready to tackle the new challenges that we continually face.
– How many employees do you have?
– At the moment, we have 500 people in our workforce, and we're continually expanding. There's still potential to be untapped in what we're doing. Our seventy patented inventions and the excellent reputation of our brands have enabled us to build one of Europe's biggest business complexes, in the textile as well as in the plastics industry. We have the potential to have thousands of employees, if necessary, and the only question is: do we really want this?
– We tend to think about these high levels of employees in the automotive industry? Is it really possible to grow this big in a European textile company?
– I think that the potential for growth in our area actually exceeds the potential of the automotive industry. Our sector has been unaffected by the economic downturn. I'm not sure that there is even one group in the motor industry that expects to include short-term doubling or even tripling of business in their business plans. In contrast in our own area, and at our scale, this has always been achievable so far.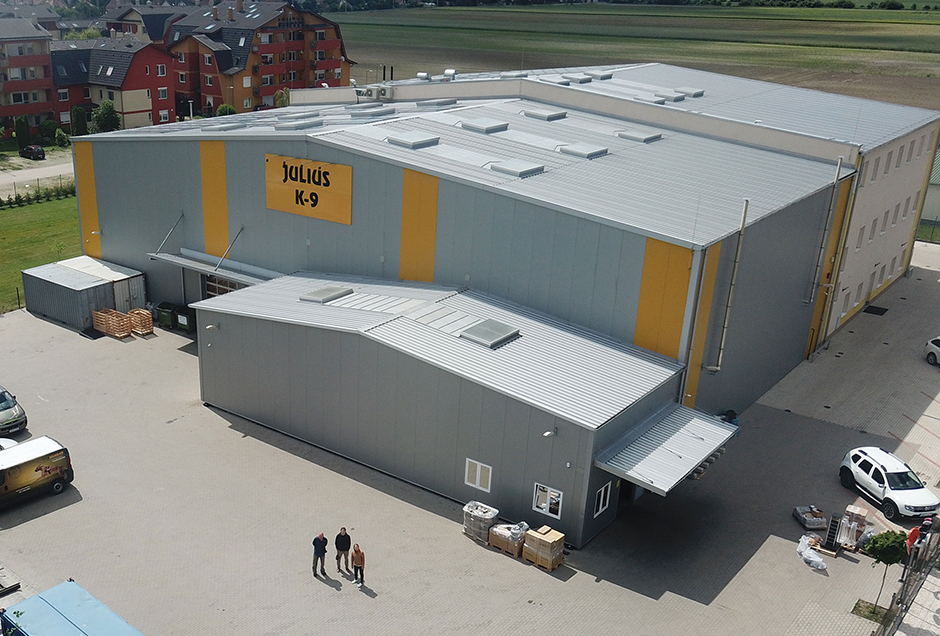 – I have seen your office building, and thank you for giving me a tour of some of your plants as well. These are all huge complexes, especially when we consider that they had to be built from scratch. 
–  We have come a long way from being a garage-based company to acquiring and building factories. Sometimes, even we find it difficult to believe that this level of progress has happened so rapidly. And as well as this objective, material growth, our daily operations have also witnessed the development of our employees' personalities and individual characters. For me, this has been at least as fascinating and rewarding as our business growth.  My colleagues, who were initially young adults entering the job market, have grown into responsible professional people, with many of them starting families and raising children. The team work that has helped our company grow has encouraged us to be interested in, and helpful towards, one another. This has turned us into a close-knit community. This has been one of the most motivating parts of my work: in a community like this, we have all developed a holistic view of each other as humans, and it's so rewarding to see people flourish. And at the same time, we are making money.
To me, this is the ideal outcome of corporate life: a combination of physical growth in the scale of our buildings and the size of our workforce, while at the same time, our community grows stronger. In my view, if any company cannot manage to achieve this, its leaders are not doing their job very well.
– Are there any threats or risks to your company on the horizon?
– One of our main concerns is that good things tend to be counterfeited, and this means that our products are vulnerable to this threat. If we ignore this problem, the companies that specialize in producing counterfeits could become stronger, endangering our market share. This is the reason why we are taking active steps to deal with the issue. However we are also aware of the risk of spending too much time, energy and financial investment on this area. There's an argument that we would be better to focus, instead, on innovation and creation of new products.  Our aim is to give urgent and efficient attention to dealing with counterfeits while at the same time working hard on our core business to ensure the permanent supply of our own high quality products.
– Have battles of this type become an integral part of your company's daily life?
Yes, to some extent, but I like to take the positive from the situation. The sense of being involved in a fight can create tension and sometimes even a little anger, and this type of energy can be used as a stimulus to hard work and creativity. I realized early on that the battle against counterfeits was not one that could be won forever. In fact, I could see that such a "complete victory" could even work against us. The saying that "one can learn the most from their defeats" is relevant here. Many of our product collections – including multiple success stories – have been created in the aftermath of some kind of defeat. When somebody copies one of our products, this can inspire us to try even harder to create a new, better design. It may seem that our motivation is to outwit those who are copying us, and to do better against them, but in fact, the real underlying aim is to do better than our earlier selves. This objective is always our focus, regardless of the outcome of the battles we're fighting. Ultimately, our goal is continual self improvement; it's a fortunate coincidence that our will to do this is continually re-enthused by the battle to frustrate the counterfeiters.
– Is it true that the counterfeiting problem is most prevalent in China?
– Unfortunately, counterfeiting is a problem in many countries around the world. We have focused on China to date, building a considerable presence in order to fight against counterfeits and trademark infringements. As well as tackling the issue in conventional ways, we have also taken a different tack, creating a lower-priced collection; this allows us to offer a competitively priced match for our rivals' products in many countries around the world.  Our primary concern is still top quality. I am hopeful that product developments scheduled for 2018 will become prime examples of Hungarian innovation. We are currently filing multiple patents every month on these new products, and we are working to expand these protective measures across multiple continents.
– What does exactly Julius-K9® manufacture? Can you explain precisely your particular areas of interest?
– To the uninitiated, our primary market may at first sound marginal, so please let me start with the numbers. The market for animal accessories and food is a €36 billion market annually in the European Union alone. Nutrition accounts for 97% of this market, including pet food, supplements, vitamins etc. Pet owners in the EU spend €2 billion on accessories for their pets every year.
Accessories for dogs accounts for 17% of this total (€200 to 400 million) is accounted for by. This is our main field of excellence; at least one of our products is the leader in the market place. This is the knowledge we're applying all over the world, but I'd rather not get started on a global analysis of the market.
– Interesting. My first impression would not have been that this niche market could represent such a huge opportunity. How did you end up in this field?
– In the beginning, we worked for the defence industry and the armed forces as manufacturers of bulletproof vests, protective clothing, camouflage suits etc. But I didn't like the idea that we were benefitting from armed conflicts, and from a practical point of view, this sector is notoriously unpredictable in terms of demand.
We wanted to create something in a field that makes humans and dogs equally happy. The outcome has been more positive than I could have imagined: our products have a significant influence on the industry, serving the needs of customers world-wide. The success of our designs has the positive effect of making dogs easier to manage, which in turn encourages people to own dogs. For me, this is a deeply rewarding outcome.
–But by making dogs more popular, don't you run the risk of making people breed even more dogs? Dog rescue shelters are already overflowing with dogs. Aren't there already enough dogs in Hungary?
– We are encouraging people to become responsible dog owners, but yes, unfortunately, there are already too many dogs to pick from. There has been a huge boom in the growth of the dog population in countries where dog ownership is not strictly regulated, and this is something that does need to be addressed. This is one of the reasons why we have been such strong advocates for animal welfare for ten years: we've built and financed shelters, and we have supported rehabilitation and adoption projects. I have personally contributed to these initiatives with my co-owner, Anikó Bakos.
These welfare issues should not stop us from seeing the many positive aspects of dog ownership. Dog ownership can significantly help people suffering from loneliness and depression. As well as encouraging owners to lead more active lives, dogs can act as social enablers, helping to reach out to marginalized people who have become disenchanted or whose lives have gone off-track.
– Why do you believe this? Do you really think humans can be helped by dogs in this way? I'm only asking because there's a saying that "The more I learn about people, the more I like my dog", if I remember it correctly.
– I think that this quotation leads down a dangerous path, suggesting that people should run away from their problems and from fellow humans. Dogs are experts in expressing unconditional love.  My belief is that the primary message from dogs to us is that humans are worthy of their love and, by extension, humans are worthy of human love. Our companionship with dogs should help us to recognize that our primary task is to "sort" our human relationships. We have become too comfortable on our own in the modern world, and we act as if it's not worth taking any kind of trouble or effort to belong to human communities. This eventually leads to fractured human societies that are not viable.
As an active and enthusiastic dog owner, I would prefer to modify your quotation as follows: "The more I know my dog, the more I learn that there are many things I could do better as a human".
– But why exactly do you believe that dog ownership gives us an opportunity to include marginalized or socially exposed people? Is this wording correct?
– The wording is perfect. Dogs are experts at making emotional connections. And modern man's primary issues are no longer about material needs; instead, they relate to emotional issues. The rates of depression and obesity (which both have emotional links) are rocketing in Western cultures. So our emotional expert friend, the dog, may offer a possible solution. Adopt a dog, and you'll smile whenever you look at it, and I think that a smile can change your attitude to everything.
– To what extent does the equipment that you're manufacturing have a direct effect on our mood or emotions?
– It's a fact that dogs nowadays "dress up", or to be more precise, they are dressed up. This trend inspired us to launch replaceable patches for our harnesses twenty years ago. These customizable plaques – probably the first in the world – not only made owners laugh, but they appealed to bystanders who didn't even own dogs.
The texts used on the plaques have been funny, ranging from 'taxpayer' to 'couch wolf' or 'I'm a Hungarian and not a stray' (this refers to a popular Hungarian joke).   Everyone finds these funny; there probably isn't a single country in the world where harness patches are not available, either from us or from another manufacturer. It's safe to say that Julius-K9®'s harness patches have made the world laugh. What's more, our invention has created a way for dogs providing special services to humans to communicate their role to others e.g. the "Service Dog" or "Helper Dog" etc. patches.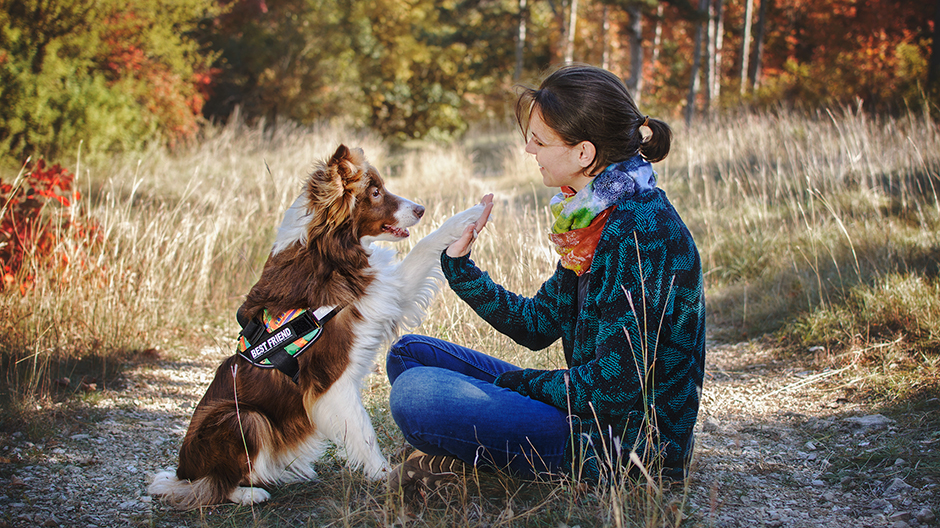 – I'm curious to know how your personal goals are different from your business ones.
– Interestingly, my personal and professional goals are very different, but at the same time, surprisingly similar. The turbulent events of entrepreneurship mean that I don't have much free "thinking time", but they have had a huge effect on the personal nature of my vision. There are basic issues that I, like everyone else, need to face in my personal life and at work, and this means that everything is connected, personally and professionally.
Take, for example, the topic of fear and anxiety. Who doesn't have these feelings? Thoughts like "I'm late, I'm missing it, I'm losing it", and "I can't take any more" give rise to emotions that force us to analyze our situations on a deeper level – if we're lucky. If we're unlucky, we may instead suffer from emotional consequences that can be very hard to manage.
We often have very high expectations for ourselves, and indeed, others have high expectations of us too. To make ourselves feel better, it can be helpful to look back, to remind ourselves how problems that seemed so serious have then become easier with the passage of time.
My experience has been that every so-called "failure" nudges us towards something new and positive. Relationships are never the same as in the past; they are always changing. Even yesterday was different to today. And the same applies to business ventures: they too are meant to change and to be modified with the passage of time.
I draw strength from the idea that everything is in motion. What might make me sad today may become a motivating force by tomorrow, and may encourage me to take action. This concept helps me to stop feeling too attached to my achievements, and allows me to tolerate change that I might otherwise find difficult. This is how I'm able to live a "personal" life that's rich in emotions, and disconnected from the "problems" of my company.
– How do you work? What's your daily routine?
– I get up at 3 am. I need silence, I mean absolute silence, to work. At dawn, I am a completely different person with utterly different thoughts compared to later in the day or in the evening. This is when I'm able to carry out the intellectual tasks that may not otherwise fit in naturally with my personality. These are tasks that I wouldn't be able to concentrate on later in the day. Writing patents is an example of such a task. These are critically important: patents can provide us with an exclusive right of use to the best technical and manufacturing solutions for a maximum of 20 years, so they need immense focus, with attention to detail.
It could be said that one of the goals of patents is to exclude others from making a living from your own idea. As a form of motivation, this is very much out of line with my own mentality. Instead, I like to see the situation as an enormous tactical game, where the goal is to map out all the technical solutions for a particular problem, wording the patent precisely so as to define the best possible answer. I find this interesting and challenging from a technical point of view. If I'm in my element, the wording of one patent should take no longer than two weeks, although I do have to manage my other tasks as a company director at the same time. I like to have a perspective on everything that's happening in the company, which means that I need to spend time circulating around the business on an ongoing basis.
– What standard of living can a modern-day inventor hope to be able to reach today?
– I don't know the answer to that. I have everything I need and I make sure that I share my success with others. My material desires are very limited. Although I do admire top brands, I don't insist on luxury in any area of my life. I am perfectly content just wearing a t-shirt and tracksuit bottoms. I like that my house is small enough that I can easily get a clear overview of it, and I hate when my phone is smarter than me. I prefer things to be simple.
I believe that partial, or even complete, rejection of the pleasures of accumulation might not be possible without first sampling what's involved. So I don't look down on anyone who is motivated by material desires. Rather, I simply see my own opportunities for self-fulfilment in other ways. It isn't for me to judge others.
– Would you say that when talking about patents, a high degree of technical acumen is necessary for finding the best new solutions?
–Reluctant as I am to confess this, my technical acumen is very poor. But I have rationalized this as a positive attribute, in that in order to find the best solution, it may be best that someone makes mistakes at the start of the process. A technically trained professional may be more helpful in reaching a goal quickly in a standard way, but my sense is that people who are capable of finding clever and quick technical solutions may already thinking about the next problem before they have fully contemplated the first one. They are incapable of fretting over the insertion or removal of a bolt in the same way as a technically naïve person like myself. So they never consider the possibility that maybe they do not need a bolt, and perhaps something else could be used instead. New, sometimes groundbreaking, solutions are sometimes created when someone thinks differently because they cannot solve a problem as effectively as they would like to do.
– What creates the opportunity or gives the initial stimulus for an invention to be created?
– I am happy to share my experiences so that others may also feel capable of inventing something.
In my case, I have realized that in order to reconnect with my inner self, I need absolute silence, and to obtain this, I simply cannot avoid loneliness. I mean this in a good sense, rather than in a negative way.
It's impossible to avoid being exposed to the internet.  The great thinkers, inventors and artists of our time cannot avoid being influenced by this infinite databank, even if they don't want to be. Maybe that's the reason why, despite the fact that there are more artworks or developments than ever before, they have less significance than in the time of Beethoven, Attila József, Mihály Munkácsy or Einstein.
I believe that these over-active information dynamics of our era are having an adverse influence on the quality of creative human thoughts and impeding our capacity to take in new ideas. We cannot be ourselves when thinking, because we are so much under the influence of external factors. We are exposed to unnatural noises, as well as radio and other electromagnetic waves affecting our cerebral activity. The question is:  can we keep out the outside world, even just for the time that we spend being creative?  Modern people may want to do this, but are they capable of doing so?
The same is true for the receiving side of our consciousness. Is our brain capable of quality-based selection of important facts in today's world of information overload? This factor may make the difference between a feasible invention being realized or ending up in the bin.
– So silence is one of your secrets. What else?
– There is one other thing that I can clearly state. Creative geniuses in the past have almost all sought connection with the supernatural, with God, with the Creator. Towards the end of his life, Einstein was exploring the question: "How did God think?" While he was musing over this riddle, he made numerous brilliant discoveries.
God-centered thinking was a basic characteristic of great empires of the past that existed for thousands of years. It cannot be pure coincidence that these empires left us with creations for which there's still no plausible explanation.
Human beings in the 21st century are trying to build new things while moving further and further away from solid spiritual foundations, depriving us of aspects of our lives that our inherent nature demands.  In my experience, people who are more open to accepting the mystery of spirituality often have a different set of skills. They see the world from a range of points of view, have a better ability to set goals and have real demands that need to be met. They are able to overcome their fears, and they seem able to have the right ideas at the right time.
I wouldn't have thought that while talking about inventions and success, we would end up discussing questions about God and belief systems.
– Life should be long enough for each of us to have the opportunity to contemplate these issues. Whether we seek connection with earthly matters or heavenly forces, it's up to each of us to find our own authentic voice. This is a precondition of success for every human being.
– Gyula "Julius" Sebő, thank you for the interview.